I was born August 27, 1951. From an early age I was drawn to two loves, studying traditional Jewish texts and making art. During my years growing up my Jewish studies gained much support, but my artistic interests had to take second place in acceptance.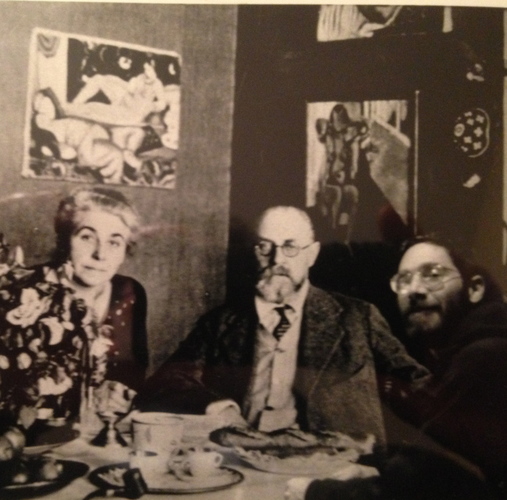 While in yeshivah in Israel, in 1970, struggling with finding a balance between these two loves, I met my third love, Zelda, who was also in Israel, studying for the year. Zelda gave me a small set of acrylic paints and, with the encouragement of the Spiritual Advisor at the yeshivah, I painted on my own during breaks from my studies. Zelda and I married in 1972. For a while I attended both rabbinical school and classes at the Art Students League. I left rabbinical school in 1973 (belatedly obtaining an MA in Talmud in 1976) to study fulltime at the NY Studio School. In its total commitment to making art without any consideration for academic credit or career success (the school was not accredited back then), it felt just like the yeshivah world I had left. I remained there until the summer of 1977. Among the many excellent artists I learned from, my chief mentor was the great George McNeil.
In 1978 I had my first one-person show at the Educational Alliance, on the Lower East Side, where we lived. I continued to participate in Jewish life as an educator and cantor on weekends.
Right after my show we moved to Israel, where I made an unsuccessful attempt to fuse my Jewish (- non-Orthodox, by now) and artistic selves. We returned to the States in 1982. I painted during the week and sang in the synagogue on weekends.
I enrolled in the MFA program in painting at Queens College, again benefiting from wonderful friends and from excellent teachers, especially the amazing Jenny Snider. I received my degree in 1989, shortly after our son, Yonah was born.
Over the years I was fortunate to be in a few shows and to win some awards. In 1991 I was awarded First Prize in the National Juried Competition of the Bridgeport Area Arts Council, juried by Lisa Philips of the Whitney Museum. In 1991-92 I was awarded a Studio Residency by the Marie Walsh Sharpe Art Foundation, "The Space Program," NY. I met a wonderful dealer, Phyllis Weil, who represented me through 1999 and arranged for shows in the US and France.
In 1993 I also began studies for a PhD in Jewish mysticism at NYU. All the while I was striving to paint, as well. After many years I received my doctorate in 2003. In 2014 Stanford University Press published my book,
Roads to Utopia: The Walking Stories of the Zohar.
I also obtained rabbinic ordination from the independent, pluralistic Academy for Jewish Religion in 1996. I continued on the faculty there and eventually served as its President and Rabbinic Dean.
However, the commitments of serving my synagogue community, my seminary and my family made it impossible to continue serious work as an artist and I regretfully closed my studio in 1999. I wondered if I would ever be able to return to working. In 2009 we moved to Montclair, NJ, where I serve as rabbi of Congregation Shomrei Emunah. Slowly the possibility of resuming painting began to seem real. With the support and help of our son, Yonah, our garage was cleaned out and I had a studio again. The images on this site are the fruits of this new period.
[photo: "Having Tea with Henri and Madame Matisse," taken by Zelda Greenstein]